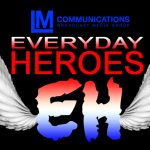 The LM Communications "Everyday Hero" sponsored by Mardi Gras Casino & Resort, Clark's Pump-N-Shop… and Classic Hits, The MIX!"
We are looking for people in our community who have made a difference… who have gone above and beyond. If you know someone who should be acknowledged for their actions, complete the information on the form below for the person you'd like to tell the world about.
Each month we'll select one "Everyday Hero" to be recognized live on the air.