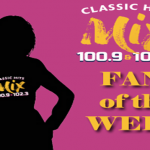 New for 2020…  It's the MIX Facebook Fan of the Week!
Keep LIKING, SHARING and COMMENTING and, you could earn that title — head over to Facebook Now!
Each week the winner gets a cake and 2 dozen cookies from Spring Hill Pastry.
The MIX's Facebook Fan of the Week from Classic Hits The MIX!
Rules:
From 1/27/2020-12/31/2020 WMXE/WWQB will accept online entries via its Facebook page.  One (1) grand prize winner will be awarded from all eligible entries and winner will be contacted on or about 3pm each Friday. Must be at least 18 years old to win. Stations' General Promotion and Contest Rules apply. No purchase necessary. Winner chosen via Facebook Top Fan feature which measures total page engagement including sharing, liking and posting.