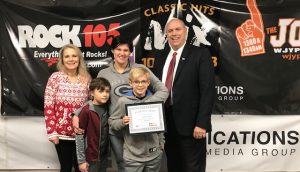 Brandie Hobbs of Ridgeview WV has been selected as this month's LM Communication Everyday Hero sponsored by Mardi Gras Casino & Resort!
Brandie is a Hospice nurse, she's raising 9 children – 3 of her own, 6 adopted.
4 of the 6 were adopted from a drug addicted home and the other 2 adopted where the children were in a situation so bad they were removed by CPS.
Brandie also has guardianship of a 17 year old girl and her daughter.
Without knowing any details, she didn't hesitate to take these kids in and even said she could take in two more if needed.
Always putting others first, she holds down a full time job in a very sensitive job setting and yet the kids she has taken in are flourishing, not just surviving but thriving.
Brandie was nominated by Beverly Gray.
(Pictured L-R: Beverly Gray, Nathan Hunt, Brandie Hobbs, Matthew Hunt, GM of LM Communications Randy Gray)