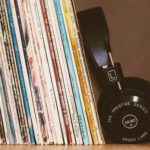 I found this story this morning and it really caught my attention. "25 of the Best Albums of the '80's"
The list coming from Ultimate Guitar, here are all 25 albums:
1.  "Master of Puppets", Metallica, 1986
2.  "Appetite for Destruction", Guns N' Roses, 1987
3.  "Back in Black", AC/DC, 1980
4.  "The Number of the Beast", Iron Maiden, 1982
5.  "Moving Pictures", Rush, 1981
6.  "Blizzard of Ozz", Ozzy Osbourne, 1981
7.  "Thriller", Michael Jackson, 1982
8.  "Purple Rain", Prince, 1984
9.  "Brothers in Arms", Dire Straits, 1985
10.  "1984", Van Halen, 1984
11.  "Peace Sells . . . But Who's Buying?", Megadeth, 1986
12.  "Ace of Spades", Motorhead, 1980
13.  "Reign in Blood", Slayer, 1986
14.  "Heaven and Hell", Black Sabbath, 1980
15.  "Texas Flood", Stevie Ray Vaughan, 1983
16.  "The Real Thing", Faith No More, 1989
17.  "Synchronicity", The Police, 1983
18.  "Screaming for Vengeance", Judas Priest, 1982
19.  "Operation: Mindcrime", Queensryche, 1988
20.  "Bleach", Nirvana, 1989
21.  "Fire of Unknown Origin", Blue Oyster Cult, 1981
22.  "Discipline", King Crimson, 1981
23.  "Pretty Hate Machine", Nine Inch Nails, 1989
24.  "Keeper of the Seven Keys, Part 2", Helloween, 1988
25.  "So", Peter Gabriel, 1986
Looking at the list, there are SEVERAL on here that I absolutely agree with. And here they are:
Master of Puppets – Metallica: I love this album. I grew up in a very Rock heavy family and this album is one of the (many) soundtracks of my childhood.

Back In Black – AC/DC: One of (if not the) most iconic albums from AC/DC. In my high school marching band, we actually played Back In Black one year, so this really hits home with me.

Thriller – Michael Jackson: Until just a year or two ago, this was THE BEST selling album of all time. It would be patently stupid to leave this off the list. Plus, c'mon… it's a great album!

Brothers In Arms – Dire Straits: While I have friends who are absolutely DONE with Dire Straits, I still like 'em. And this is actually one of the albums I have in my personal collection at home.

The Real Thing – Faith No More: I LOVE this album. To me, this is one of the albums that really set the stage for the evolution of music through the '90's.
What do you think of this list? What's missing? Email me Cam@wvmix.com!
This posting is an opinion piece based on another posting on another website. Full list and original article found here: https://www.ultimate-guitar.com/articles/features/friday_top_25_best_albums_of_the_80s-117512?fbclid=IwAR3S-0wrFJ7qZ9siu1xkX5zBZx7qft9ZH5YHScJqsduEzVNXuuXx6WtOhn0