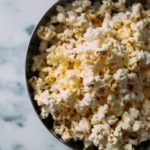 This list coming from "The Hollywood Reporter" Click HERE for the complete list.
So here are the top 10 from their list, along with my personal thoughts on them!
1.  "Hocus Pocus",  1993 (and the new sequel). Obviously a late 80s & 90s kid classic. Though to be honest, I'm starting to get tired of seeing it every where. It was good. But it wasn't a masterpiece.
2.  "Beetlejuice",  1988.  This one is a little less PG, so be aware of that. However, I do consider it a classic and I'll aware bonus points for watching the cartoon series of it as well (if you can find it).
3.  "The Addams Family",  1991.  There's also a direct sequel, "Addams Family Values", plus "Addams Family Reunion" and the 2019 animated flick, once again titled, "The Addams Family". And you can't forget the classic series as well. To me, this is mandatory Halloween season viewing.
4.  "Halloweentown",  1998.  A Disney Channel original that spawned three sequels. I never saw the sequels, however, as a kid in this mid 90s, it was entertaining, and I have no doubt that your family can still enjoy it today.
5.  "Ghostbusters",  1984.  A classic, no doubt. Though keep in mind this isn't geared towards children and the kids may not be as into it as you.
6.  "Twitches",  2005.  From the Mowry Twins, honestly I don't have much to say about this one because I really don't remember if I've even seen it.
7.  "Casper",  1995.  One of my favorites as a child. Definitely worth showing your family. Bonus points if you find the old cartoons as well.
8.  "Gremlins",  1984.  This one is a cult classic, and I would even include the sequel (which was just as good in my opinion). But keep in mind it does have some creepy bits that may not be the most family friendly at times.
9.  "The Nightmare Before Christmas",  1993.  Another classic and mandatory watching. Enough said.
10.  "Coraline",  2009.  Yet another that I've honestly not seen. I've heard it's fantastic, unfortunately I'm yet to watch it myself.